West Coast Trail
Duration: 9 days
Level: Moderate to strenuous
Min Group Size: 2
Max Group Size: 6
Price: Adults $2196 CAD + tax
2020 Dates:
July 4 - Fully reserved for private trip
July 17 - Fully reserved for private trip
Aug 26 - 6 spaces available
Departs From: Vancouver or Nanaimo
Please read our FAQs for more information about our tours.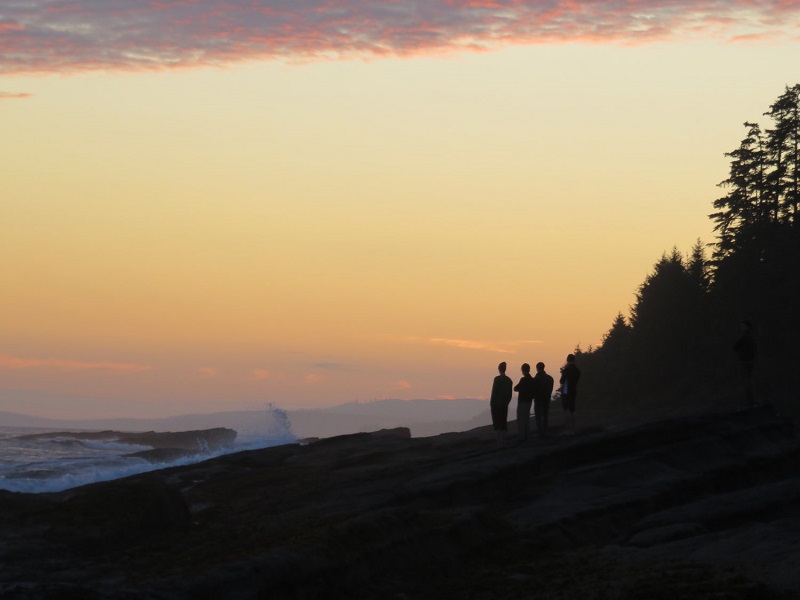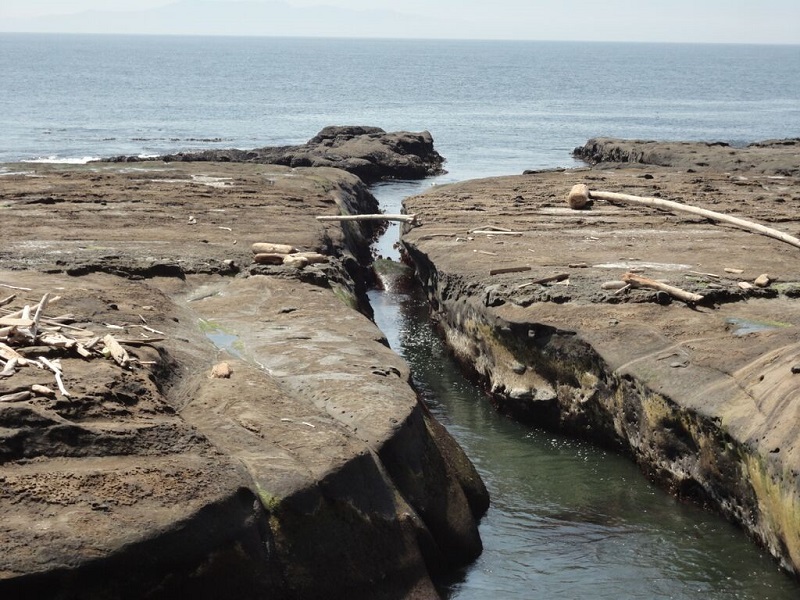 Summary
The West Coast Trail is the grandaddy of all the coastal hikes on Vancouver Island. At 75 km it is certainly the longest and best known. Frequently named as being in the top ten hikes in the world it is one that shouldn't be missed by any serious hiker or backpacker. Everyone should have this one on their list. The scenery and trail are varied, ranging from beautiful sandy beaches to sandstone shelving to slippery wooden boardwalks to dense coastal rainforest.
Some say that the West Coast Trail has become more sanitised and less difficult but it should never be underestimated with approximately 100 hikers evacuated off the trail every season. It's long, it's tough and it's beautiful; it's an experience every hiker should have at least once in their lifetime and we love it.
We run our trips a little differently from most of our competition. For instance, we keep our group size small with a maximum of just 5 clients and we travel from north to south, saving the most interesting sections of the trail until later in the trip when our packs are lighter. But perhaps the biggest advantage is that this means we get the shuttle bus ride out of the way before we start the trail, instead finishing the trail right back in Port Renfrew where a comfortable night in a hotel awaits. Doing it our way, you can be having a hot shower half an hour after finishing instead of spending 4 hours bumping along on logging roads returning to the other end of the trail. This is something we know you'll really appreciate given the comments from previous clients. Once cleaned up we can enjoy a beer together and share trail memories over dinner before making a more leisurely departure the next morning. To us this is preferable to rushing straight off the trail to catch a ferry or move on to another location (each end of the trail, at Bamfield or Port Renfrew, is at least two hours drive from any other town).
Itinerary
Please bear in mind that this is a wilderness hike and the itinerary is only a suggestion and not set in stone.
DAY ONE - Pick up at your hotel in Vancouver from where we will take a short drive to Horseshoe Bay to catch the ferry to Nanaimo on Vancouver Island. Once on the Island we head for Port Renfrew a journey of a little under two hours. Here at the southern end of the West Coast Trail we will take the mandatory Parks Canada orientation session at 2:00pm. We will then check in at our accommodation, The West Coast Trail Lodge, where we can organise our packs for the beginning of our adventure. In the evening we will eat at the Port Renfrew Hotel just a short walk away.
DAY TWO - At 8:45am we take a near four hour journey on the West Coast Trail Express bus over rough logging roads to the northern trailhead at Pachena Bay from where we will start our hike at lunchtime. The northern section is the 'easiest' part of the trail and we will aim to make Darling River where there is a good campsite on a sand and pebble beach, a distance of some 14 km. Before we reach our camp we will see, among other sights, a sea lion haulout and one of the two lighthouses that protect this area of coast, the so-called 'Graveyard of the Pacific'.
DAY THREE - Today we hike the 11 km to Tsusiat Falls where we will make camp at this incredibly scenic place, often thought of as the best spot on the entire trail. Along the way we will use the first cable car of our journey to cross the Klanawa River. In the evening we will make a campfire and watch for whales on their annual migration up the coast.
DAY FOUR - We will have a longer hike today as there are no campsites for 17 km until we get to Cribbs Creek, another lovely sandy beach with good water access. At the Nitinat Narrows we will cross using a small water taxi run by the local First Nation. This is where we will take lunch (included), crab, salmon and halibut are usually available and you can also stock up on chocolate bars if needed.
DAY FIVE - Another solid day's hiking of approximately 12 km takes us to Walbran Creek, one of the larger creeks on the trail and a great spot for a camp. The hiking begins on beautiful sand and takes in Carmanah Lighthouse and it's wonderful curved bay.
DAY SIX - The trail gets harder as we move south but our packs are lighter as our food supplies diminish. Today we will hike for approximately 10 km with the aim of reaching Camper Creek at the 62 km mark. We will be encountering the most serious ladder sections of the trail on the way. Camper is another great site to spend the night.
DAY SEVEN - Our penultimate day is a wonderful mix of inland rainforest and an incredible section of tidal shelf (tides willing) that some say is the best part of the trail. As it rounds Owen Point a tough section of large boulders brings us into Thrasher Cove for our last night on the trail in sight of Port Renfrew.
DAY EIGHT - Finishing off our adventure by hiking through the rainforest while also passing the highest point on the trail gives us a shorter but still hard and memorable last day. At Gordon River we wait for the water taxi to pick us up and then straight to our hotel for a wonderful hot shower. Rest a little if you want then it's back out to dinner at the Port Renfrew Hotel.
DAY NINE - After breakfast at the Coastal Kitchen Cafe (again, a conveniently short walk from our hotel) we will make the leisurely drive back to Nanaimo from where we catch the ferry back to Horseshoe Bay. Clients will be dropped off at downtown hotels but, should you require, alternatives such as Nanaimo or Victoria can be arranged (please let us know well in advance).
What's Included
All transport from pick up at your downtown hotel in Vancouver (or Nanaimo) and drop off at the end of your tour including ferry to Vancouver Island

Bus from Port Renfrew to the northern trailhead at Pachena Bay

2 night's accommodation at the West Coat Trail Lodge in Port Renfrew

6 nights camping accommodation

All camping equipment (tent, sleeping mat, sleeping bag, headlamp, eating utensils, etc.)

No supplement for solo travellers, you get your own tent

All park permits and fees
Wildlife Viewing
Chances of seeing:
Black Bears - possible

Wolves - less likely

Cougars - less likely

Eagles - highly likely

Whales - probable

Sea Lions - highly likely

Sea Otters - less likely
Please see our FAQs page for an explanation of these ratings.