Early booking discount available. Save 15% by paying for your trip by December 31st 2019.
Nootka Island Trail
Duration: 6 or 8 days
Level: Moderate
Min Group Size: 2
Max Group Size: 8
Price:
$1796 CAD + tax (6 days)
$1996 CAD + tax (8 Days)
2020 Dates (6 day trips in parentheses):
June 23 (24)
Departs From: Vancouver (downtown) and Nanaimo
Please read our FAQs for more information about our tours.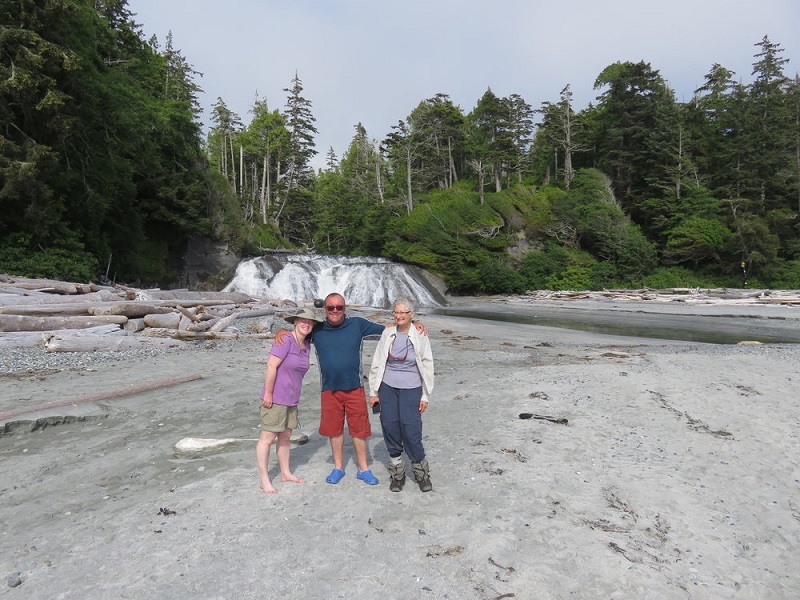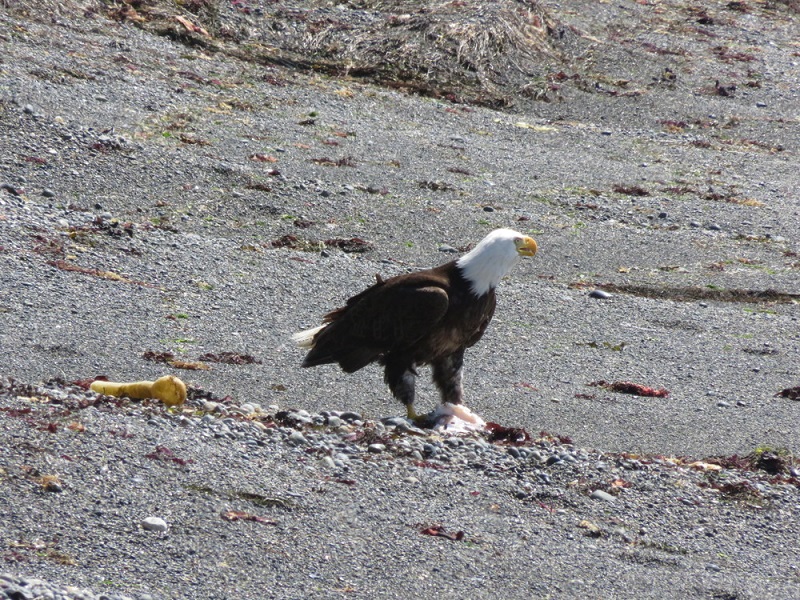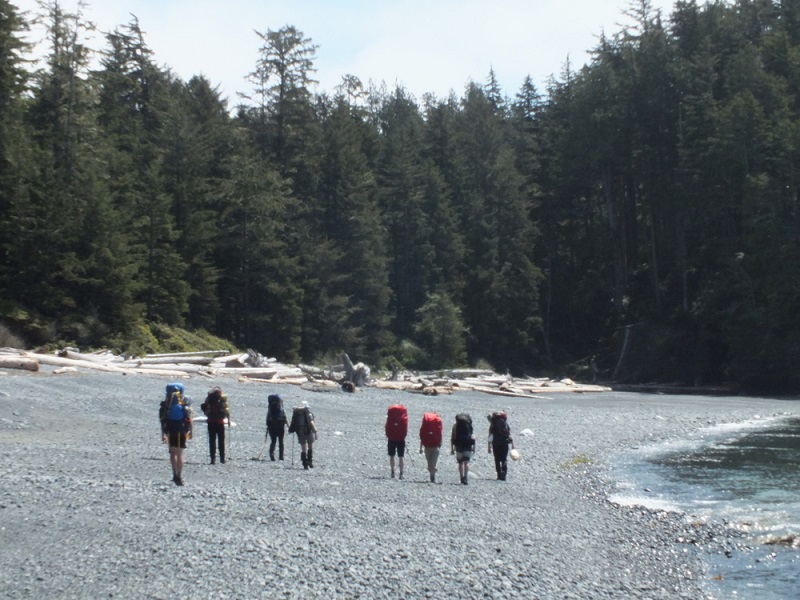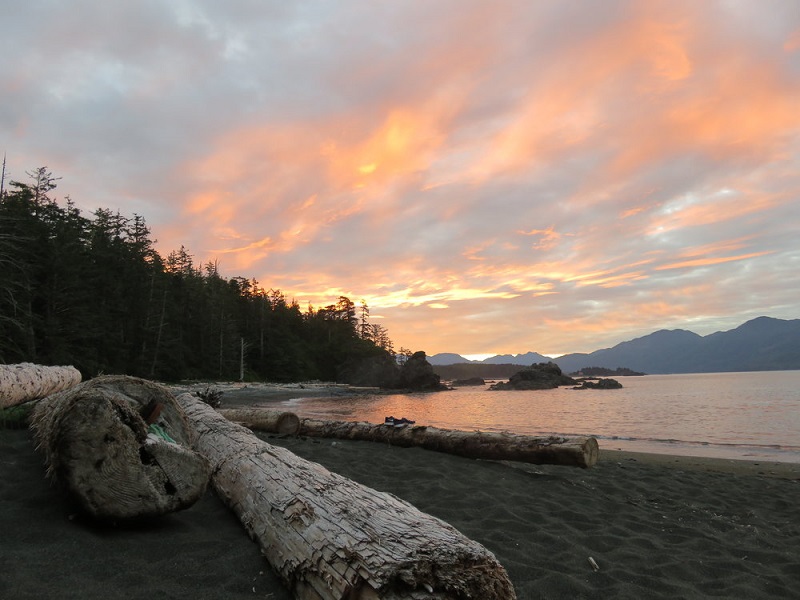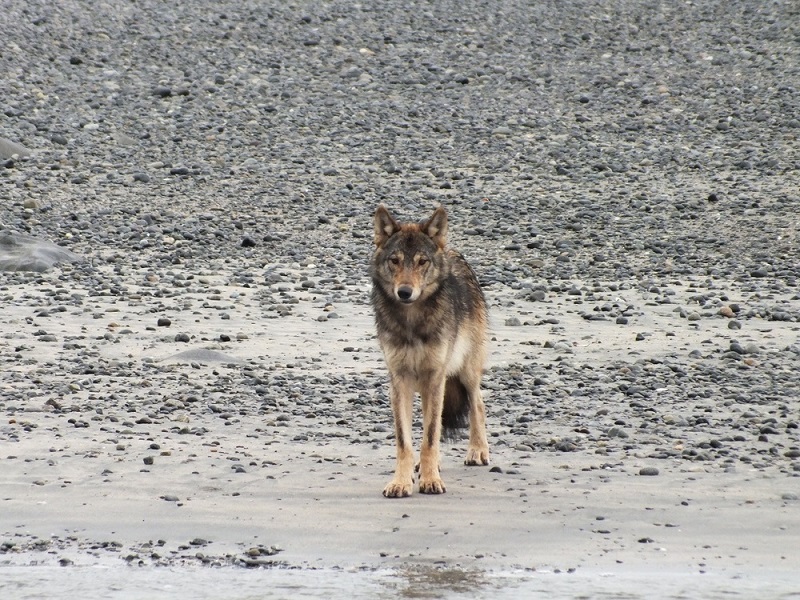 Summary
This is a wonderful wilderness trek on remote Nootka Island, the place of first contact between the First Nations and Europeans on the west coast. It features beautiful pocket beaches, stunning west coast sunsets and lots and lots of wildlife. It also has perhaps the best spot on any coastal hike - Calvin Falls, where we like to schedule a rest day so we can enjoy a swim and some relaxation.
A fairly short hike at a mere 35km (22 miles) long the Nootka Trail remains remote and wild. If done in good weather it is relatively moderate (though technical through the forested sections); catch some bad weather though and it's a whole other story. Even in good weather on some parts of the trail we average about 1km per hour!
We offer two options, a 6 day and an 8 day trip. The 6 day option will not include transport to and from the trailhead or two overnight stays in Gold River, one at the beginning and one at the end of the trip. Instead we will meet you in Gold River on the morning the hike begins and say goodbye at the end of the trail. This option may work well for those already in the area with their own transport.
If you're coming from further away and do not have access to a vehicle you may prefer the 8 day trip and letting us take care of the logistics of getting there. Be aware that there is no public transport to Gold River and distances in BC are bigger than you might imagine. We provide transport all the way from Vancouver.
Itinerary
Please bear in mind that this is a wilderness hike and the itinerary is only a suggestion and not set in stone.
DAY ONE - For those on the 8 day trip we will pick up at your hotel in downtown Vancouver (airport or other hotels not included) around midday from where we will take a short drive to Horseshoe Bay to catch the ferry to Nanaimo on Vancouver Island (pick up possible here too). A 1 hr 40 min ferry ride awaits. Once on the Island we head for Gold River (4 hours) and our accommodation at the Gold River Chalet.
DAY TWO - This morning we meet those on the 6 day trip and at approx. 10am our friends at Air Nootka will take us on a magical float plane flight to Louie Lagoon on Nootka Island (30 minutes). The flight wends its way through inlets and over islands and beaches following the entire length of the trail and allows us to see our route before we set foot on it. Make sure you have your camera ready for this exciting part of the journey.
A hike of approximately an hour will bring us to our first campsite at Third Beach. We can set up our tents here, relax on this beautiful beach and get ready for an evening around the campfire. (Distance 2km, 45 mins - 1 hour of hiking)
DAY THREE - Today we hike from Third Beach to Calvin Falls. This is a reasonably long day but not particularly strenuous (12 km, 5-6 hours).
DAY FOUR - Rest day at Calvin Falls. We schedule a rest day at this wonderful spot but it may be used elsewhere or not used at all depending upon a number of factors. We will have time to relax and enjoy a swim in the falls or in the sea. There is also an excellent reef to explore if the tide allows, one full of sea life.
DAY FIVE - Moving on from Calvin Falls we will hike to idyllic Beano Creek. Along the way we will spend some time at Bajo Point to see if we can spot sea otters. These marvelous creatures were hunted to extinction during the fur trade period but have been successfully reintroduced and are now growing in numbers. (Distance 12km, 4-5 hours)
DAY SIX - This more strenuous day takes us from Beano Creek to within sight of the church at Friendly Cove. There are some good up and down sections over headlands in this section including the longest rope pull (see gallery for photos). Hiking is rugged on this day and the going can be slow. (Distance 10km, 7-8 hours)
DAY SEVEN - Our final day on the island sees us finish the trail to arrive at Yuquot or Friendly Cove. This Mowhachaht First Nations village was the point of first contact between indigenous people of British Columbia and white Europeans. We will visit the historic church and graveyard before returning to Gold River on the passenger and freight vessel the MV Uchuck (arrive 4pm). At Gold River we will say a fond goodbye to our 6 day clients. For our guests on the 8 day trip we will head to our hotel for a well earned shower and then out for an equally well earned burger. (Distance 3km, 2 hours)
DAY EIGHT - Those clients on the 8 day trip will return to Vancouver with us, leaving at 9am and arriving approximately in the mid afternoon.
Book the 6 Day Trip
Pay a deposit then fill out a booking form.
Book the 8 Day Trip
Pay a deposit then fill out a booking form.
What's Included (6 day trip)
Floatplane flight to Nootka Island

Return journey on the MV Uchuck

5 nights camping accommodation

All camping equipment (tent, sleeping mat, sleeping bag, headlamp, eating utensils, etc., even includes backpack if needed)

Soft beverages during car journeys

All park permits and fees

The services of one of our guides for the duration of your trip
What's Included (8 day trip)
Everything listed under the 6 day trip above
Plus:
All transport from pick up at your downtown hotel to drop off at the end of your tour including ferry to Vancouver Island and car transport to Gold River

Two nights motel accommodation in Gold River
What's Not Included
Meals or snacks while not on trail
Wildlife Viewing
Chances of seeing:
Black Bears - probable

Wolves - probable

Cougars - less likely

Eagles - highly likely

Whales - probable

Sea Otters - possible

Sea Lions - possible
Please see our FAQs page for an explanation of these ratings.